Corn snakes and ball pythons are the two most popular pet snakes.
Two big reasons pet owners love corn snakes is their beauty and their docile nature.
Another reason is that they do not grow overlay large.
But they do reach maturity fairly soon in life. That obviously means a fast growth rate.
How fast? Let's find out.
How Fast Do Corn Snakes Grow?
Typical corn snakes grow 1 to 2 inches per month until they reach maturity. They continue to grow throughout their life, but do so at a much slower rate after reaching maturity.
1 to 2 inches a month is obviously a large variance. They can grow at very different speeds, depending on certain factors.
Factors Affecting How Fast Corn Snakes Grow
Several factors affect how fast corn snakes grow. Here are the most influential factors.
Gender
Female corn snakes grow fastest during their first year and slow down after that. Male corn snakes are typically lighter than females at one year old but end up significantly heavier once they're fully-grown (usually around two years old).
Fully-grown male corn snakes are noticeably longer than females, so you can expect them to keep growing at a faster rate for months, if not years, longer than the females.
How Can I Determine My Corn Snake's Gender?
Determining a corn snake's gender can be difficult, but ultimately this determines their growth rate. They have almost no variation in coloring by gender, although you can measure their size.
Larger corn snakes are far more likely to be males. Otherwise, ask a professional to check for you or read how to sex a corn snake.
Diet
Diet significantly affects the growth rate of corn snakes, particularly during their first year of life. Corn snakes who eat more are significantly more likely to see faster gains in size.
In practice, this means that you should feed your corn snake more if you want a bigger pet, but not to the point that it becomes unhealthy. You don't want a fat snake.
What Should I Feed My Corn Snake?
Most corn snakes do well on diets of thawed frozen rats or mice, with the occasional treat or supplement. Thawed mice typically have the same nutrition as live mice, but there's no danger of your snake getting hurt while it's constricting its food.
Corn snakes that are bred in captivity tend to be more docile and willing to accept thawed food because it's what they're used to. Wild snakes may hesitate at first, but most ultimately end up accepting dead treats.
Rats are a bit better than mice because they tend to have more muscle and less fat which could increase your snake's growth rate. But the difference isn't enough to be a significant issue for most snakes. Plus, smaller snakes can't swallow a rat anyway.
Can I Feed Anything Else To My Corn Snake?
Yes. Corn snakes may also eat frogs, chicks, hamsters, quail, guinea pigs, and lizards. Frozen, store-bought meals are usually better than wild treats because there's a far lower chance of transferring parasites or diseases to your corn snake.
Habitat
This isn't as obvious, but corn snakes may grow more slowly, and to a smaller size in total, if they're in smaller habitats. This makes sense, because they don't have as much space to grow.
If you want to optimize their growth, you should keep them in a sufficiently sized tank from their earliest years. What size tank does a corn snake need?
Corn snakes do best in tanks that hold at least 20 gallons. But larger is better and we recommend 30 or 40 gallons.
You don't need to start with a tank that big if you're raising a baby corn snake, but you'll want to upgrade if you start with a smaller enclosure. You should always ensure your habitat has plenty of space in it.
Of course, you can save money by getting a large enough enclosure for an adult snake from the beginning. Corn snakes don't cost much on their own, but their tanks do. Why pay for two of them?
Is It True That Snakes Can Only Grow As Large As Their Habitat?
No. Biology is the main factor that determines size, and snakes can outgrow an overly-small habitat. But, staying in an area that's too small could potentially stunt their growth, which is why it's always better to err on the side of more room instead of less.
How Warm Should I Keep The Habitat?
You should not try to maintain an even temperature throughout your corn snake's habitat. Instead, set up the habitat to have a warmer side around 90 degrees and a cooler side around 70 degrees.
This kind of temperature gradient allows your corn snake to get warmer or cooler, depending on what it needs to regulate its body temperature.
I recommend recreating a semi-natural environment for your snake. Having some places to explore, some places to climb, and some places to hide can lead to happier, more-relaxed pets with healthy growth.
How Large Do Corn Snakes Grow?
Corn snakes can grow up to 5 feet long as adults, though some will stop growing around 2 feet. As mentioned earlier, corn snakes keep growing throughout their lives, but do so at a much slower rate after they hit maturity.
Most corn snakes reach maturity when they're around two years old, but plentiful food can lead to them reaching maturity at an earlier point in life.
The main factors that influence their final size are their diet, gender, and habitat as described above, as well as their genetics. Some snakes are naturally predisposed to being longer or shorter, just like some humans are naturally taller.
As snakes grow, their skin does not grow with them. This means they outgrow their skin and need to shed it.
Since they grow fast when they are young, corn snakes shed often early in life. Once they are mature, they only shed a few times a year.
What Happens To Their Growth If They Stop Eating For A While?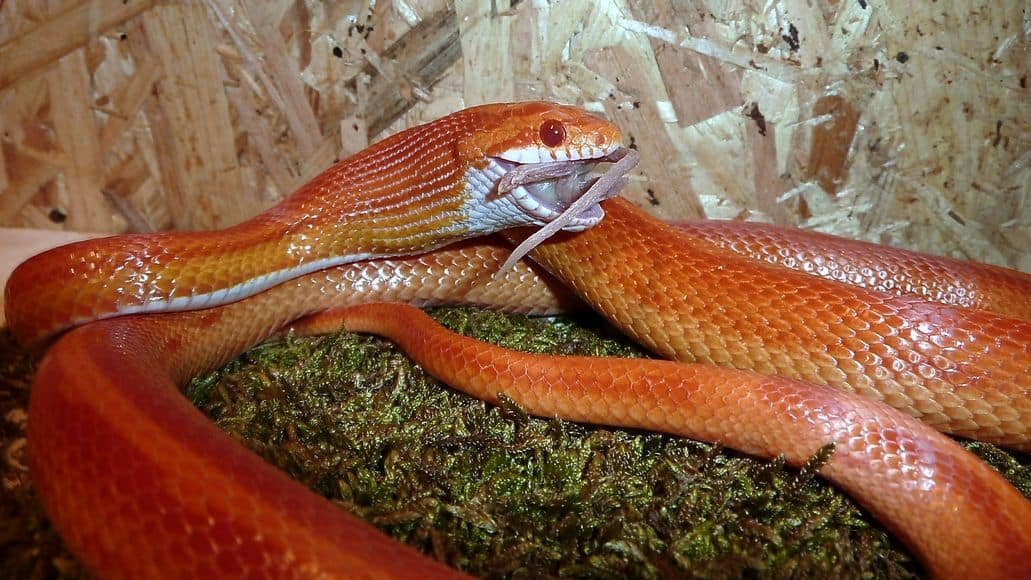 Corn snakes may occasionally stop eating food for a while. This isn't as dangerous for adults as children (who shouldn't go more than one week without food).
Adults can last 2 to 3 months without eating, so don't panic if they occasionally refuse their regular food. They may just not be interested in eating at that time. They commonly don't feel like eating when they are getting ready to shed.
If an adult snake refuses two regular meals in a row, contact your veterinarian. It could be a sign that your snake is sick.
Juvenile corn snakes won't grow if they aren't eating, so any missed meals during their childhood could make them smaller or slow their growth for the rest of their life.
Do Wild Corn Snakes Grow Larger Than Captive Ones?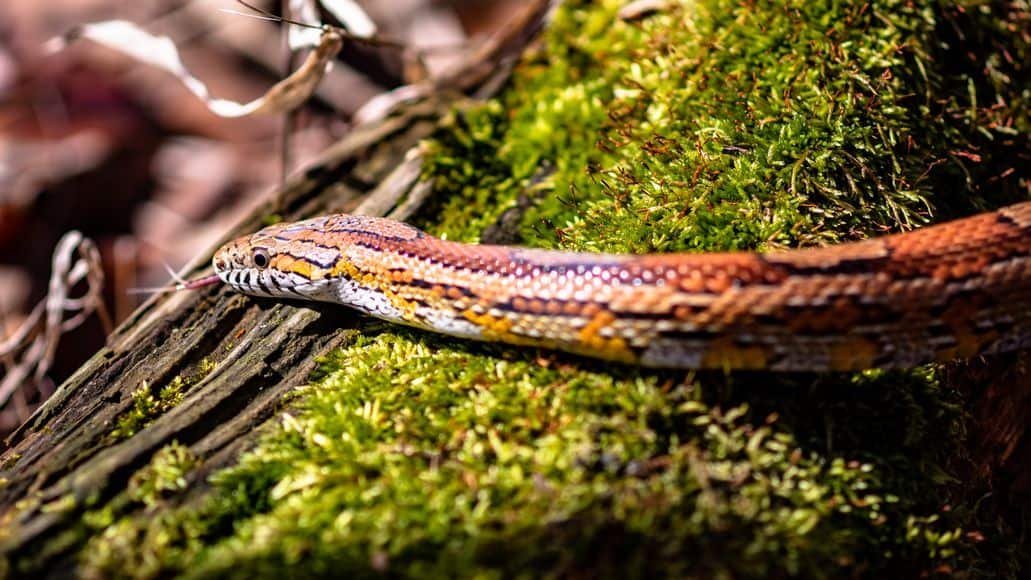 Wild corn snakes are usually slightly larger than captive ones, although captive corn snakes can still grow larger and at a faster rate than their wild brethren. In other words, the difference isn't enough for most people to notice.
The main reason for this is that wild snakes tend to eat more than captive snakes and travel more throughout the day. This builds more body muscle. Some wild snakes also tend to eat larger prey than their captive relatives, influencing their overall bulk.
Can I Raise Corn Snakes Together?
No. Corn snakes, like most snakes, are generally solitary except when mating. Larger snakes typically eat smaller snakes.
If you want to raise more than one corn snake simultaneously, keep them in separate habitats, preferably in different parts of your home. Not only does this provide a healthy habitat to promote growth, but it also keeps your snakes from fighting over territory.
Corn Snake Growth Rate: Final Thoughts
A lot of factors affect the growth rate of corn snakes. Hopefully this article has helped you figure out what you need to do to help your snake grow faster and larger (or slower and smaller, if you prefer).
If you want to breed corn snakes to reach their absolute maximum growth rates, talk with experienced breeders about their recommendations. There's no substitute for first-hand knowledge, and they often know tips and tricks that you won't hear about elsewhere.