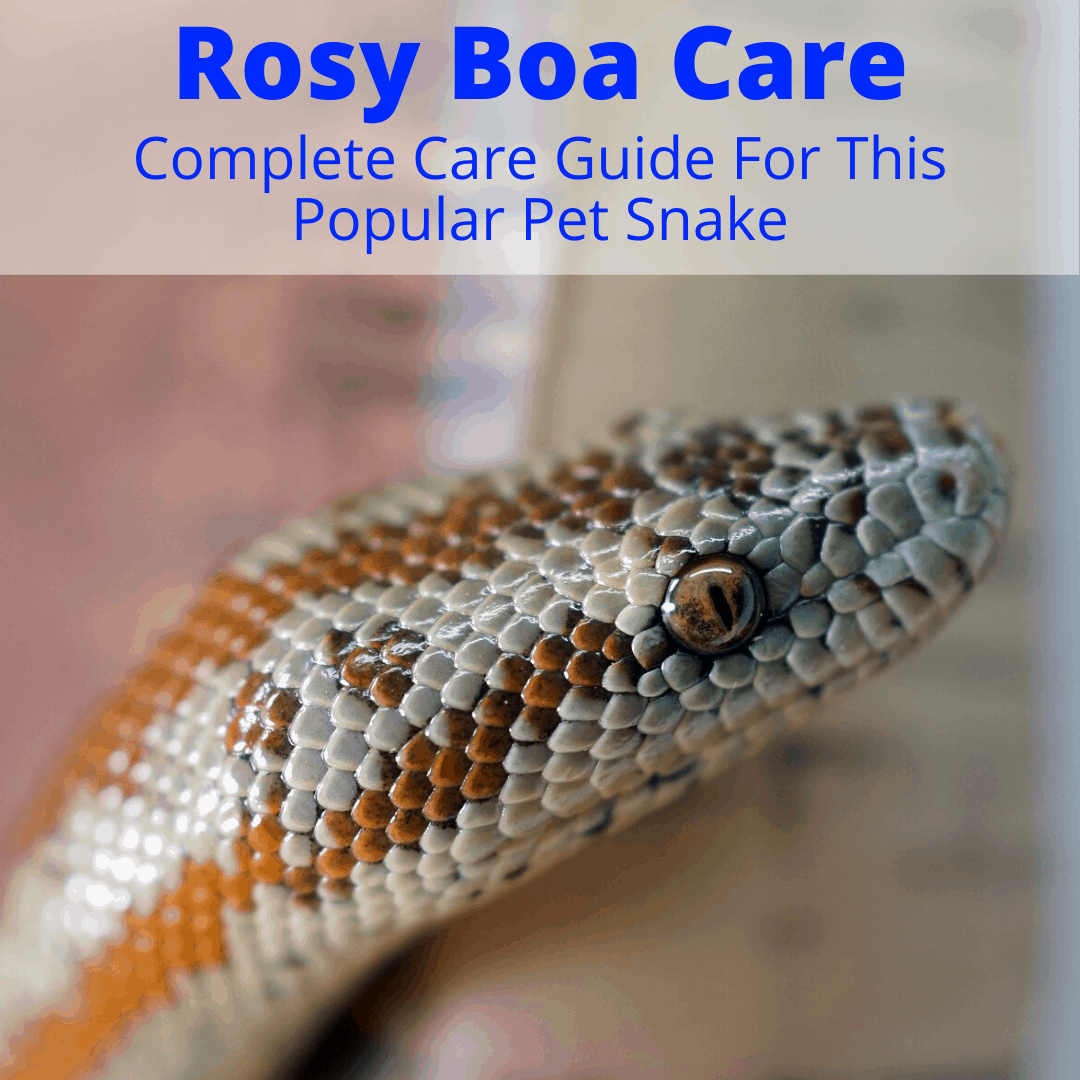 Should you get a rosy boa?
For many potential snake owners, the answer is a resounding "yes!"
Rosy boa care is about as easy as it gets.
They are not aggressive at all, they don't mind human contact, they are not difficult to feed, they do not take up much space, and they are native to the US, so they do not require unusual environmental conditions.
Let's take a closer look at just how easy caring for a rosy boa can be.
If you're not sure whether this is the right snake for you, this should clear it up. We'll also give you some interesting facts about the rosy boa, to really help you make that decision.
Rosy Boa Care
Rosy boa snakes originate from the American southwest. They make wonderful pet snakes for a number of reasons.
One is their size. They never grow overly large, with the males reaching a maximum length of about 45 inches. Females grow to an average of about 42 inches. They won't need a ton of space to live comfortably.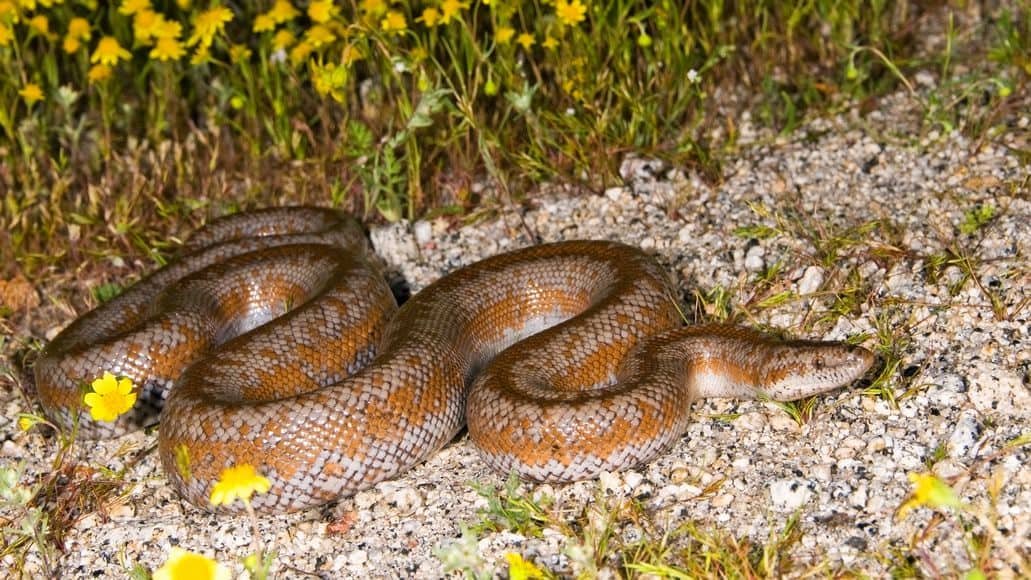 They are also very placid and calm. You can even pick up a wild rosy boa, without having it become overly aggressive with you. They rarely bite and the only time they might nip you is if they think you are food.
The fact that they are native to the United States also helps. They are used to the climate there or in Europe, so most snake owner won't have to adjust the environment in the cage much. Let's see what they do need in their enclosure.
Rosy Boa Enclosure
You should always get an enclosure that the snake can comfortably move around in, without being too cramped. For this species that does not need to be an overly large one.
One the best enclosures to get for these snakes is the 24″ x 18″ x 12 Exo Terra Outback Terrarium.
We have a full review of Exo Terra enclosures with much more information on this brand and what makes their terrariums so popular.
Ventilation
It is vital for these snakes to get plenty of ventilation. They do not do well with humidity, since they naturally live in desert regions. Too much humidity can kill them, so make sure they are always getting plenty of fresh air.
Substrate
The best snake litter or substrate to use with this snake is aspen snake bedding like this.
This type of bedding does not hold moisture, making it ideal for snakes that do not need humid environments. It is also a good substrate for burrowing. Our buyer's guide for snake bedding has more info on substrates.
Temperature
These snakes, like most others, need a warmer and cooler side of the tank. The warmer side needs to be 90° to 95° F and the cooler side should be 70° to 80°. This temperature gradient allows the snake to properly manage its body temperature, ensuring it stays healthy and thrives.
Water
As desert snakes, rosy boas do not need much water and they don't soak. This means you should only use a small water dish.
They don't need a large one and it could increase humidity levels too much. Make sure the water is always clean.
With this snake, you should remove the water from the enclosure a day before feeding. Put it back in two days after the snake has eaten. Some rosy boas end up drinking too much, which will cause them to regurgitate.
Hiding Areas
There are a huge variety of snake hides available. We cover the best in this snake hide buyer's guide.
You could also simply fashion your own hides out of plastic containers, ceramic pots, or PVC pipes. Just make sure there are no sharp edges that could injure your snake.
Rocks And Branches
Adding rocks, sticks and branches will make the enclosure feel more like home for your snake. Think of it as furniture it can play on, hide behind and also rub up against to aid in shedding.
Food
Rosy boa snakes love mice. The easiest way to procure mice is to buy them frozen. Amazon has a bunch of options. For these snakes, you will generally want to feed them fuzzie mice, but you will want to increase the size of the mice if the snake grows larger.
The size of the mouse or rat should be the same as the width of the snake at its widest point. Fuzzie mice are the correct size for the snake pictured here.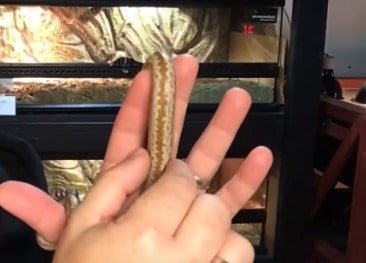 If your snake refuses to eat a frozen-thawed mouse you can also give it a live mouse. Ideally, feed it a baby mouse, since an adult mouse can injure the snake.
If your snake is a baby, feed it every five days or so. There is no magic formula for this and it all depends on how much it weighs. Even at the same weight, each animal differs, with some simply being more voracious eaters than others.
When your snake is about one year old, you can reduce feeding frequency to once every seven days. But again, this all depends on their weight.
For a fully-grown adult, feed it every 10 to 14 days. Increase the meal sizes from fuzzie mice to a hopper mice, if the snake grows to large for the small mice.
Adult mice are too much for a rosy boa. Feeding them adult mice can cause them to regurgitate. If your snake needs more food than a hopper mouse provides, simply feed it two or more hopper mice per meal.
Rosy Boa Facts
Here are some interesting facts about these lovely creatures. You'll notice they do things a bit differently from most snakes, but that is a huge part of their charm. You can also read about their close cousin, the Kenyan Sand Boa. Both are types of boa constrictors.
They Love Eating
This snake must be one of the easiest to feed. They have amazing appetites and it does not take much for them to gollup down that mouse. This is one of the things makes this snake very easy to have as a pet snake for beginners.
Most Rosy Boa snakes enjoy a thawed frozen mouse. They may not want them at first, if they are not used to them, but will quickly grow to love them. If yours doesn't seem to want it, move it around a bit to make it look alive, like in the video below.
They Avoid Extreme Sunlight
The rosy boa comes from very hot environments, so it has learned to avoid the extreme summer sun. Too much heat will kill it, so it hides away behind rocks or under logs, etc. You should provide places to hide in the enclosure.
This snake is also most active during the nighttime. This is when it goes out looking for a nice meal, so you may have better results if you feed your pet after dark.
Rosy Boas Do Not Like Too Much Water
This snake does not drink much water and does not care to soak. In fact, most owners don't even keep a water dish int he cage permanently, instead only providing water for the snake every two days or so.
They Can Act Like A Skunk
When the rosy boa feels threatened it can let off a somewhat nasty, in a defense mechanism similar to a skunk. They emit a musky-smelling liquid from their cloaca that is meant to repel any threat.
Unfortunately for them, and fortunately for us, the smell is not really that bad. It's nowhere near as bad as a skunk. This makes it a fairly poor defense tool.
You Can Handle Them Even While They're Eating
The rosy boa loves eating so much that nothing can distract it. I have held mine on many occasions without the snake even stressing. Other snakes will stop eating if they get handled and may regurgitate any food they are currently digesting.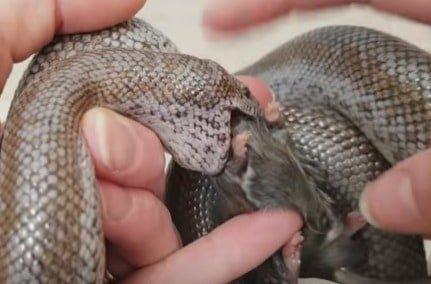 They Are Native To The US
These boas are one of a few boa species that are native to the United States. They mainly live in the southern parts of the US, in desert areas. They actually vary in color, depending on where they live.
Caring For A Rosy Boa: Final Thoughts
The rosy boa is a great pet, and might very well be the best snake to get as a beginner. This is because they are super easy to look after. They are not fussy eaters, do not require high humidity levels, do not get large and are not aggressive.