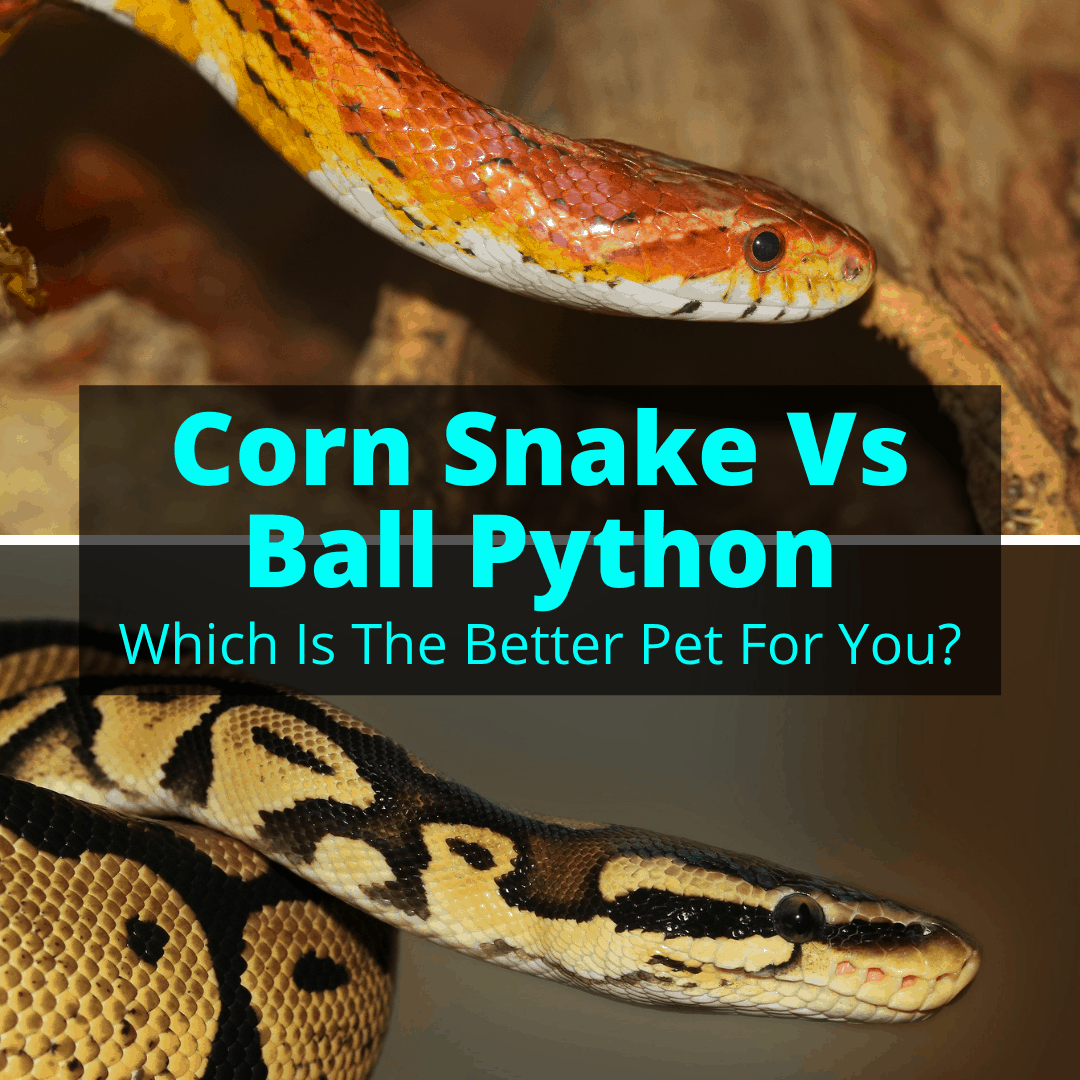 The corn snake and ball python are the two most popular pet snakes.
It only makes sense to compare them directly.
They have a lot of characteristics in common. Specifically, the characteristics that make them such great pets.
But they also have a few distinct differences.
These differences are important. They determine which of these snakes would make the better pet for you.
Let's take a look at the differences and similarities between these two species and also find out which is your ideal pet.
Corn Snake Vs Ball Python
The following table gives you a brief comparison of a corn snake and a ball python. A more in-depth comparison follows below.
What Is A Corn Snake?
Pantherophis guttatus, better known as the corn snake, comes from North America and is part of the rat snake species. The corn snake immobilizes its prey by constricting it.
Despite commonly being mistaken as a venomous copperhead snake and often killed as a result, the corn snake's venom is actually harmless to humans.
Corn snakes are useful in that they control rodent populations, that can ruin crops and distribute disease. The corn snake is quite subdued and relaxed, making this snake a popular pet.
What Is A Ball Python?
Python regius, also known as the ball python, is native to West and Central Africa, living in tall grass and shrubs. In Africa, this is the smallest python and is often hunted for its meat.
The ball python coils into a ball as a defense strategy, which is where it gets its name. It feeds mostly on small rodents and birds and is considered a good pet due to its small size and relaxed nature.
They prefer to hunt at night due to their nocturnal nature and rest during the day in burrows while in the wild, or inside a hide in captivity.
Differences Between Corn Snakes And Ball Pythons
While there are some similarities in the diet and nature of the corn snake and ball python, there are also many differences between the two.
Corn Snake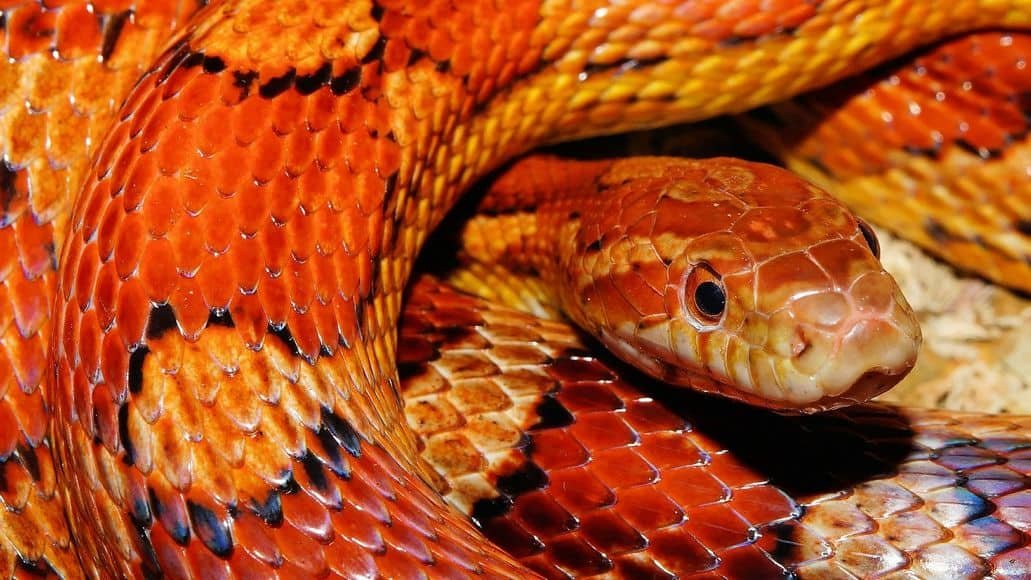 Most corn snakes are orange in color, with unique white and black, almost checker marked bellies, with slim bodies and narrow, smooth heads.
The corn snake can grow up to 6 feet in length and weigh up to 2 pounds. Female grow larger than males.
Captive adult corn snakes eat thawed mice every 7 to 10 days, while a baby corn snake will need to eat every 5 to 6 days.
They may require you to feed them live baby mice for the first bit of their lives since they aren't accustomed to the frozen ones yet, so make sure you're up for the task.
A baby corn snake might also appreciate a nibble on a frog or a lizard. Do not handle them after feeding.
When it comes to habitat, a corn snake likes a fairly neutral temperature (not too hot or too cold). A corn snake's life span is about 6 to 8 years in the wild and up to 23 years in captivity.
Ball Python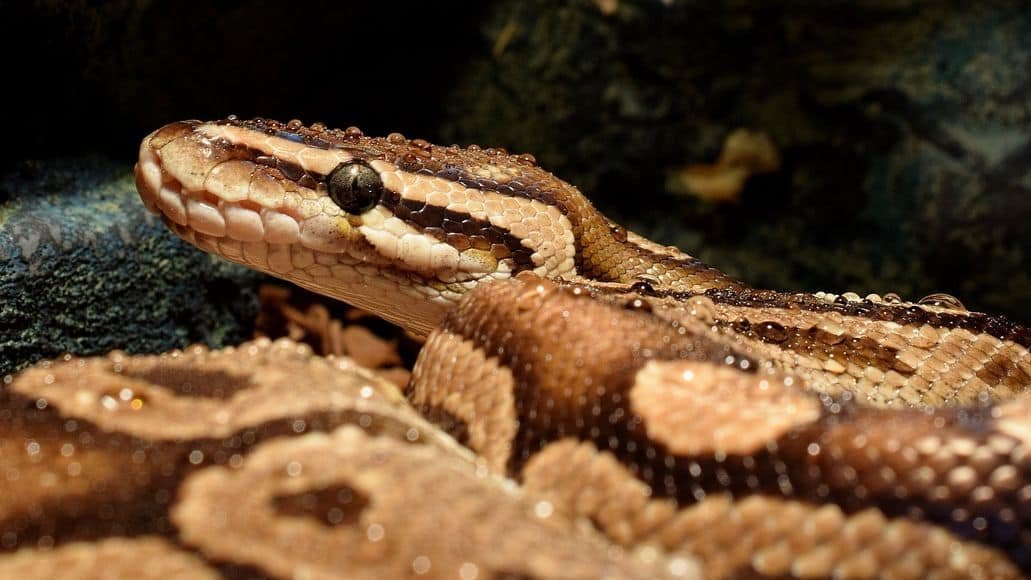 The ball python has a dark brown body with almost golden markings on its back, a muscular body, and a small head. It does not get nearly as long as a corn snake, but is much wider.
How big do ball pythons get? Males generally grow to a length of 2 to 4 feet, while females reach lengths of 3 to 5 feet. But because they are thick, they can weigh up to 5 pounds. A ball python's life span is 20 to 30 years in captivity.
A ball python will eat thawed, previously frozen rats in captivity. Their diet in the wild is rats and other rodents.
It is important not to handle a ball python for a day after they eat, or they may become stressed and regurgitate their meal. In fact, you should keep all handling to a minimum with this species. The average ball python does not like to be handled.
It would be best to feed a ball python adult once every week or two, while a younger ball python will need to eat every week.
A ball python will need a warmer place to live, since it is used to living in a hot, dry climate. You have to provide it a heat source. If it gets too cold, it could get sick and die. How long can a ball python go without heat? Not long. Six hours is the maximum.
Corn Snake And Ball Python Similarities
Corn snakes and ball pythons have several similarities. Neither are venomous, which is a good thing if you plan on keeping one of these snakes as a pet.
If scared or threatened, both the corn snake and ball python will bite. Luckily, neither can do much harm with their bites.
Both snakes are easy to care for, and both have a laid back nature. Both the corn snake and the ball python feast mainly on rodents.
Both breeds are easy to handle and are happy to be wrapped around your arm or neck, once they've gotten used to you. These snakes are great for a first-time snake owner due to their docile nature and low maintenance requirements.
Both snakes come in various morphs, which means that they are bred to have different, often spectacular, colors and patterns. The banana ball python is a good example of a morph, as is the snow corn snake.
Advantages Of The Corn Snake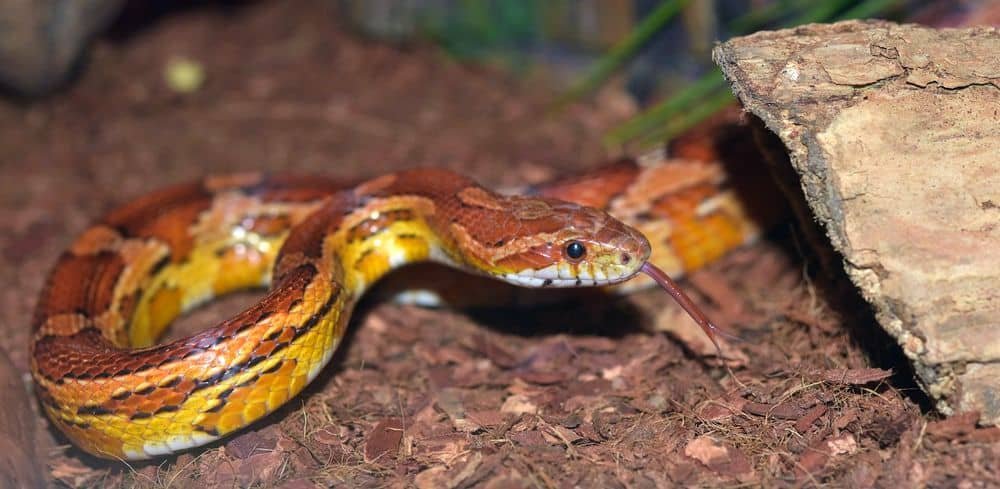 The corn snake is a great starter snake if you're looking for a pet. It has a laid back personality and stays within a reasonable size. It also comes in many colors and patterns.
The corn snake needs less attention. It is also less likely to bite you, as it doesn't have the rigid personality that a ball python has.
Keeping your corn snake comfortable is also easier than with other snakes, because they thrive in pretty mild temperatures. They need similar humidity levels as ball pythons, but their basking areas don't have to be quite as toasty, which could be easier for you to manage.
Their long lifespan is another perk, as they can live 20 years or more as part of your family.
Advantages Of The Ball Python
Ball pythons also come in various morphs, just like corn snakes, but the highlight for snake owners is often their personalities. Ball pythons are often friendly, if not a bit shy. They may need to be tamed a bit.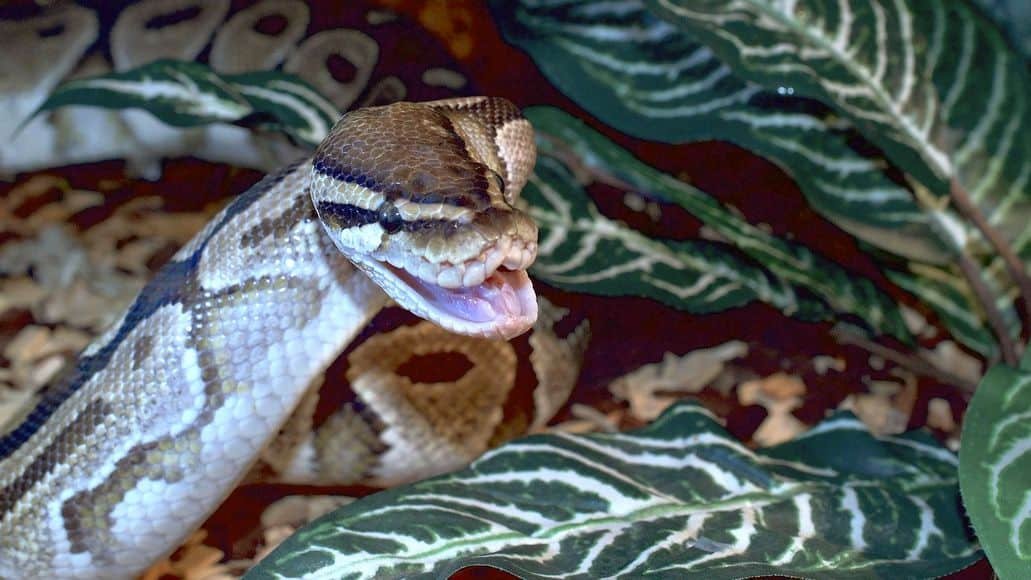 Once you spend some time getting to know one another, your ball python may prove it has quite the personality.
Pythons do live longer than corn snakes, with some in captivity even surviving for as long as 40 years. If you want a serpentine friend who will stick around a long while, a ball python might be the perfect pet.
Who Should Get A Corn Snake?
If you have never owned a snake before, then a corn snake may be the perfect 'starter pet' for you.
A corn snake is a bit easier to keep than a ball python because they don't require heat lamp lighting. A heat mat or other basking area is enough to regulate their body temperature since they're accustomed to milder temperatures overall.
Corn snakes also seem to have less personality than ball pythons in some ways. If looking at and occasionally holding your snake is your ideal pet ownership plan, a corn snake might be the right fit.
They are also inexpensive, unless you want a rare morph. How much does a corn snake cost? You can expect to spend between $25 and $100 for a standard corn snake. Usually, the cost will be under $50.
Who Should Get A Ball Python?
Ball pythons can be excellent pets for newer snake owners, but they're best for people who can handle their habitat needs.
This includes specific heating measures. They are also best if you prefer a snake that has a more approachable personality than the more aloof corn snake.
Keep in mind that despite their reputation for being friendly, ball pythons do have to bond with their owners.
It could take time to form a relationship and establish trust, but if you're up for the challenge, it's worth the effort. Eventually, your python might enjoy wrapping itself around your arm and just hanging out.
Ball pythons are also quite inexpensive, though that depends on the type. How much does a ball python cost? You can get a regular one for under $50, but some rare morphs can run into the thousands.
One final consideration is if you are thinking of getting multiple snakes and putting them in the same enclosure. Can you house ball pythons together?
We strongly caution against it. Forcing two ball pythons to live together can lead to all sorts of issues. You will have much better luck putting two female corn snakes together in a single enclosure, if you absolutely want multiple snakes in one habitat.
Comparing Ball Pythons And Corn Snakes: Common Questions
Let's look at some common questions related to the differences between a ball python and a corn snake.
Can You Train A Ball Python Or A Corn Snake?
You generally can't train a snake to do tricks or come to you on command. Snakes do what they want when they want.
Some snakes develop strong bonds with their owners, though, and they are very intelligent. Most snakes learn their humans' habits and will interact to some extent — but it does depend on personality.
Can I Feed My Snake Foods Other Than Rats?
The hardest part about owning a snake at first is that you have to feed it rodents. Snakes do not eat vegetables and only the smallest ones eat worms or insects.
They eat rats and mice. For hatchlings, you specifically need baby rodents. If this makes you squeamish, a pet snake may not be the best option.
Do I Take My Snake To A Vet?
Unlike a dog or a cat, you can't just go to a vet and plop your snake on the table without cause for alarm. It may be a good idea to look into a vet that treats snakes before purchasing one, as this could become an issue if your snake becomes ill.
Will My Snake Bond With Me?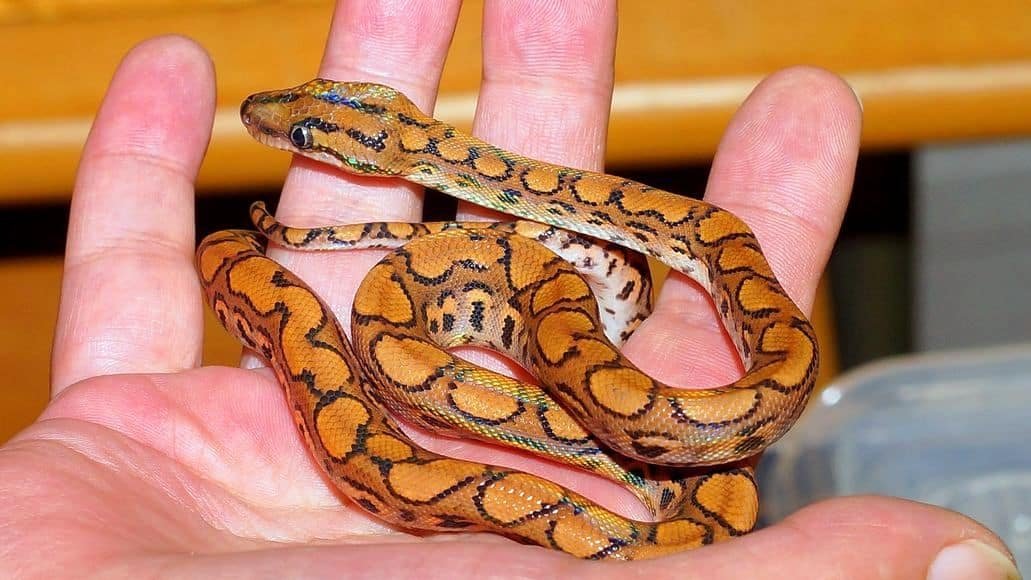 Unfortunately, a snake will not bond with you as a dog or a cat would. They are as cold as their blood and show no allegiance to anyone but themselves. So if you are looking to have a pet that you can cuddle with and depend on, a snake is not for you.
That said, they do sometimes bond with their owners to a small degree, but it takes effort. While neither the corn snake nor the ball python is venomous, both can and will bite.
Taking your time getting to know your new pet — and showing them you're not a threat — can help you bond. Over time, they may even appear to enjoy being handled and spending time with you.
Will My Ball Python Or Corn Snake Shed Its Skin?
Yes. All snakes shed their skin. The ball python sheds its skin every 4 to 6 weeks, while the corn snake will shed its skin every few months. They shed more often when younger.
Ball Python Vs Corn Snake: Final Thoughts
Both of these snakes make excellent pets, so it comes as no surprise that they are the most popular pet snake species. They are easy to care for, docile, relatively small and they come in many beautiful color and pattern variations.
After reading about each, you probably find yourself wanting both as a pet. But we hope that this article also shed some light on the differences between the two and helped you figure out which of these snakes would be a better fit for you.
If you're not sure either pet sounds right for you, maybe because you want more of a challenge, we also have an article looking at the differences between blood pythons and ball pythons. The blood python is also a great pet, but more suited to experienced snake owners.
If you are underage and living with your parents, you probably need their permission to get a snake. I had that issue when I was younger, but was never able to convince them I now know I went about it all wrong. That's why I wrote an entire article on how to convince your parents to get a snake to help you.